Parmesan Producers Employ Microtransponders to Combat Counterfeits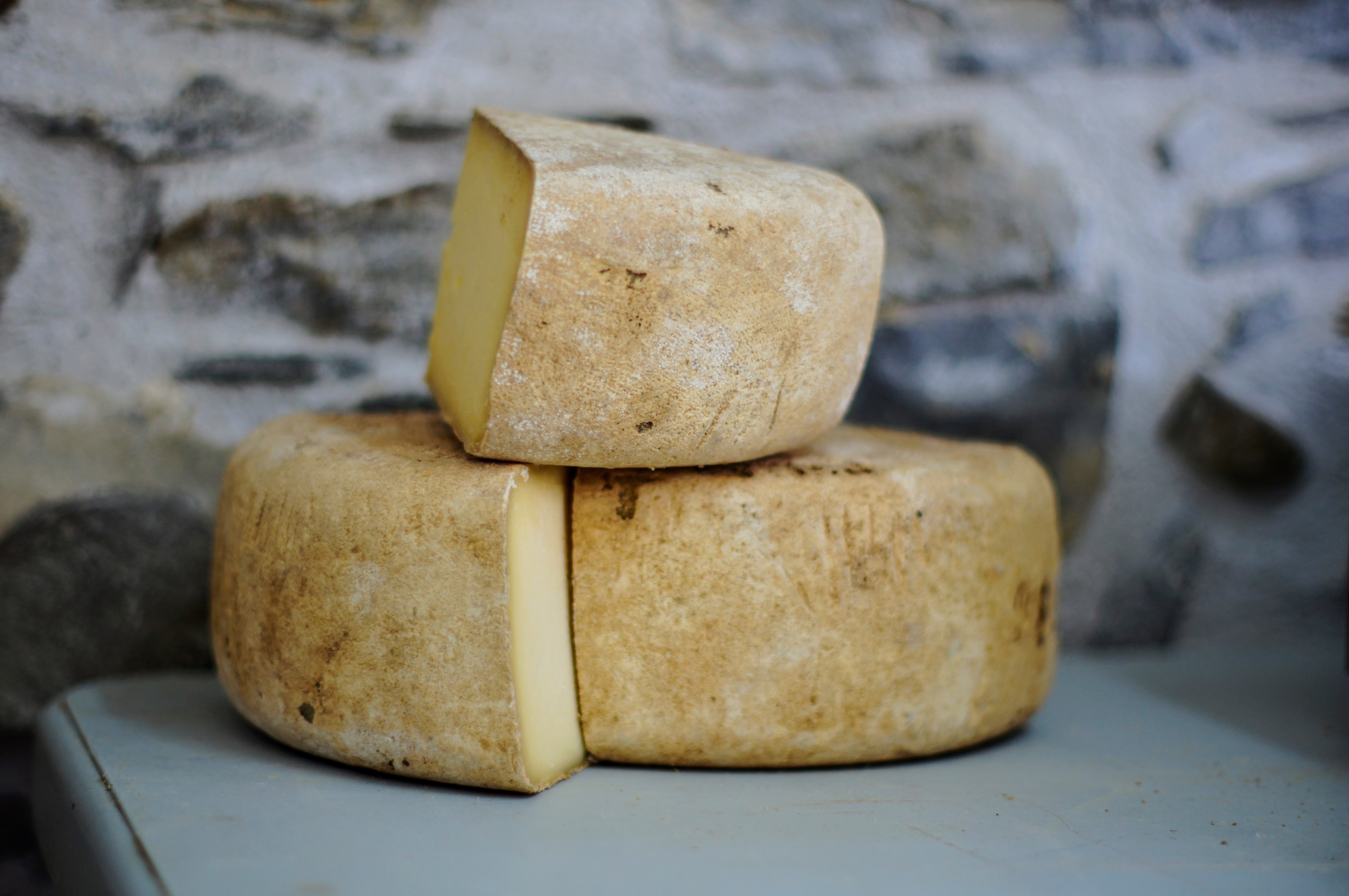 Efforts from the Parmigiano Reggiano Consortium to secure authenticity.
In the intricate world of cheese production, Italy's prized parmigiano reggiano stands as a beacon of quality, and, unfortunately, as a target for counterfeiters. To mitigate this, manufacturers have adopted an innovative approach - integrating microchips into the cheese's label for authentication.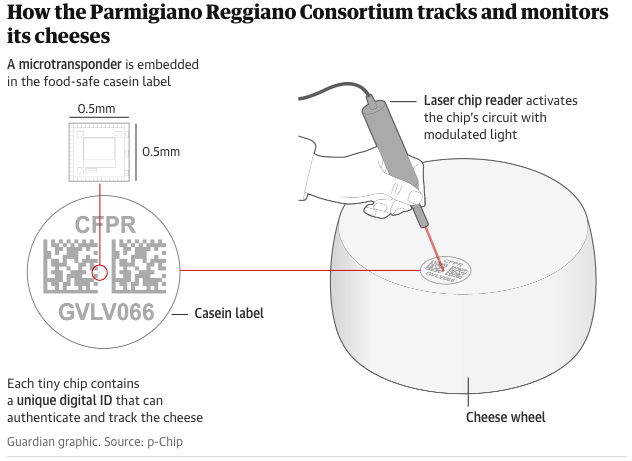 The Parmigiano Reggiano Consortium (PRC), responsible for monitoring the production of this iconic cheese, has been fending off imitators for decades. The cheese, rooted in history tracing back to the middle ages, has been granted the EU's protective designation of origin (PDO) since 1996. This certification ensures that only cheeses made under stringent guidelines in specific regions of Italy, including Parma and Reggio Emilia, are designated as parmigiano reggiano within Europe.
With such strict criteria, PDO products usually command higher market prices, enticing counterfeiters. PRC approximations indicate global sales of counterfeit cheese amounting to nearly $2 billion annually, alarmingly close to the €2.9 billion sales of the authentic cheese in the previous year.
To ensure authentication, recent trials have integrated microtransponders, no larger than a grain of salt, into labels on 120,000 wheels of the cheese. These microchips, developed by US-based p-Chip Corporation, offer consumers the opportunity to trace back the origin of their product.
Alberto Pecorari, from the PRC, expressed their determination to counteract counterfeit products, highlighting the collaboration with p-Chip and Kaasmerk Matec for this modern verification method. As the global demand for parmigiano reggiano rises, with nearly half of the production being exported, this digital tracking strategy reaffirms the PRC's commitment to preserving the integrity of their esteemed cheese.
New Balance Sues Golden Goose for Sneaker Design Infringement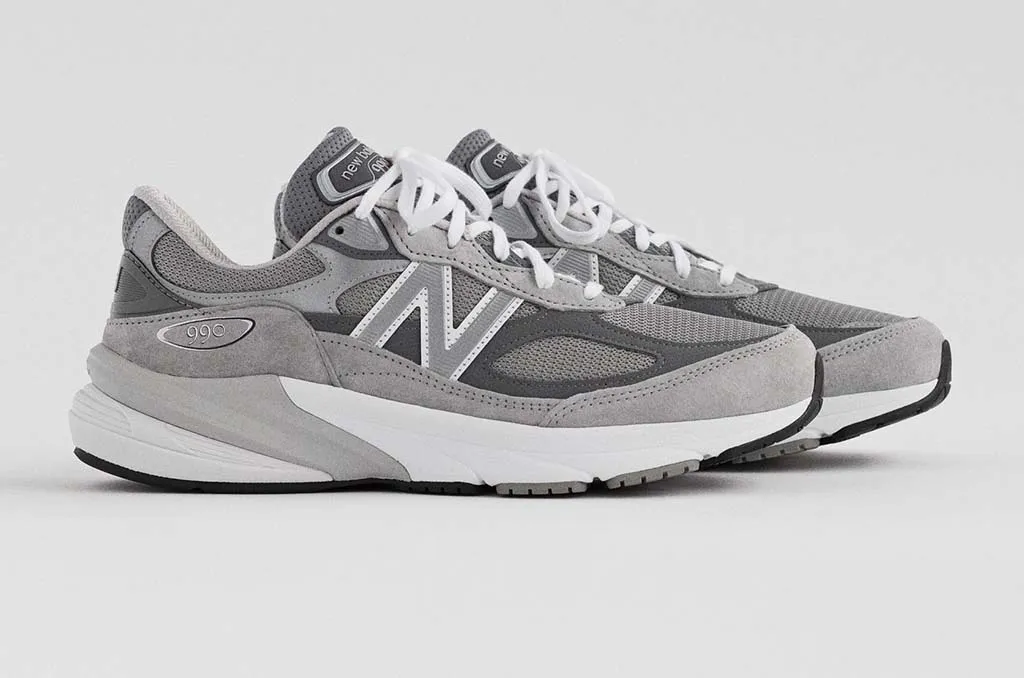 Leading footwear brand New Balance has taken legal action against Golden Goose's U.S. subsidiary, claiming that the company has been selling imitation versions of one of New Balance's iconic sneaker models. The lawsuit, filed in the U.S. District Court in Massachusetts, asserts that Golden Goose's "Dad-Star" sneaker, introduced in 2021 with a price tag of $625, closely resembles New Balance's renowned 990 model, which debuted in 1982 and is currently priced at $199.
The legal complaint, dated August 18, strongly asserts that Golden Goose's marketing of the "Dad-Star" sneaker seeks to exploit the recognition and triumph of New Balance's 990 model and its brand. The use of the name "Dad-Star" is pointed out as a deliberate attempt to create consumer confusion by connecting the products to New Balance. The complaint highlights that New Balance is widely known as the originator of the "dad shoe" trend and has fostered a strong link with the term. The 990 model, within New Balance's range, has established itself as the archetypal "dad shoe."
Furthermore, the lawsuit touches on the use of the color grey in the sneakers' design. The lawsuit emphasizes New Balance's intent to preserve the distinctiveness of its brand and prevent any potential dilution caused by the alleged infringement.
Injury from Counterfeit Product on Amazon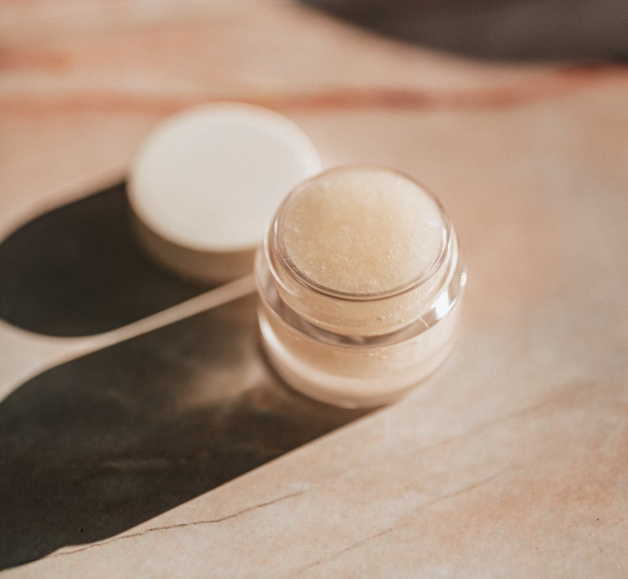 A Reddit user, pacacinnoscafe, shared their distressing experience with a counterfeit product purchased on Amazon, highlighting the subsequent injury they sustained. In their post dated August 28, 2023, the user recounted how they had ordered SPF 50 face suncream from Amazon, assuming it would come from their usual seller. However, the product was supplied by a new seller and turned out to be counterfeit. This unfortunate incident resulted in chemical burns to their face, necessitating medical treatment.
The user expressed frustration with Amazon's response, as they were told to contact the seller for resolution. Despite providing medical documentation, photo evidence of the injuries, and a comparison between the counterfeit and genuine products, the seller remained unresponsive.
Instagram Removes Deceptive Account Impersonating Apple CEO Tim Cook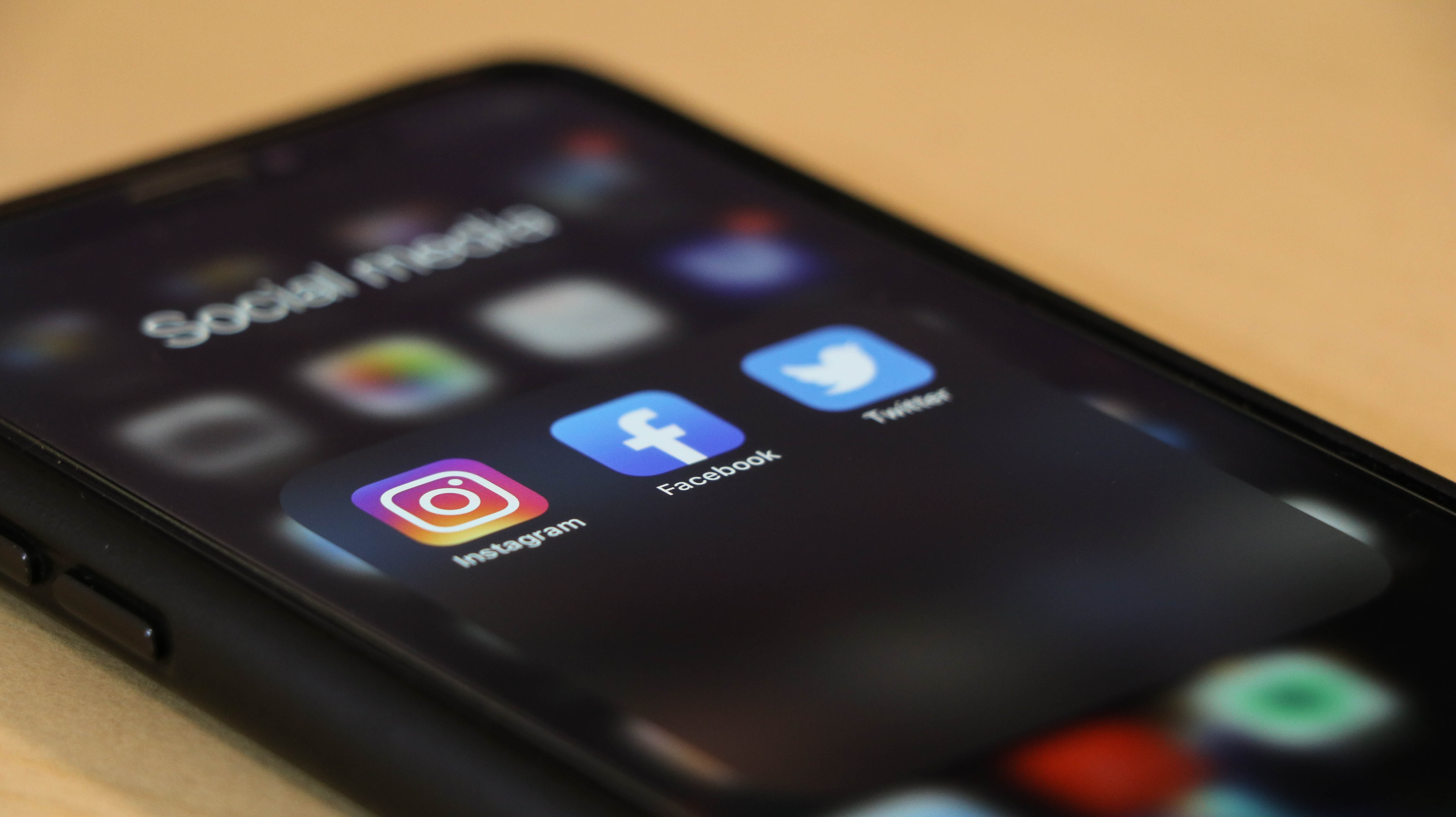 In a recent development reported by 9to5Mac, a deceptive account on Instagram has been successfully taken down. The account had amassed a significant following, including notable figures from Apple, such as Lisa Jackson, the Vice President for Environment, Policy, and Social Initiatives, and Alan Dye, responsible for Human Interface Design.
The deceptive account, posing as Apple CEO Tim Cook, had garnered attention for its misleading content. Fortunately, Instagram has taken swift action to remove the account, ensuring that the online community is safeguarded from such impersonation attempts.
Ugandan Court Rules in Favor of Artist in Copyright Infringement Case Against Airtel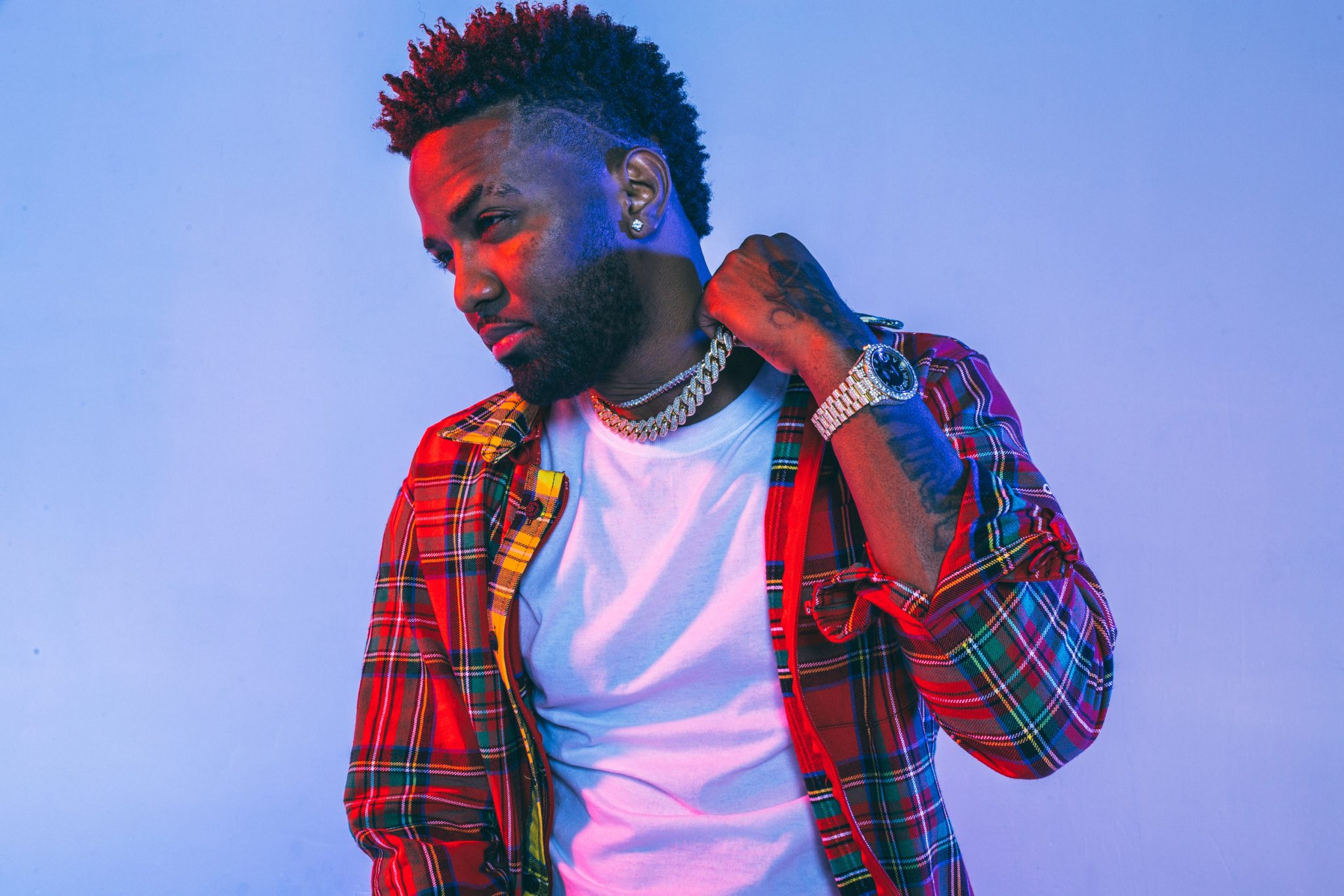 The Ugandan High Court in Kampala has ruled in favor of Jamaican singer Garfield Spence, known as Konshens, in a copyright infringement case against Airtel Uganda. The court has ordered Airtel to pay USD 180,000 in general damages to the artist for copyright violations, as reported by Nile Post.
In the case filed in 2015, the singer claimed that Airtel, alongside Onmobile Global and Mtech, distributed his songs without consent, and refused to pay any royalties. The plaintiff said the songs were used as caller tunes for Airtel subscribers at UGX 600 per download. under a programme called "Hello Tunes". On 21 August the High Court ruled in favour of the plaintiff. The High Court declared that by using and distributing Konshen's songs as caller tunes without his consent, the defendants were jointly liable for infringement of plaintiff's copyright in the said suit songs.
And there you have it – we've reached the end of this week's round-up of noteworthy legal battles in the world of trademarks and copyright.
As always, we at BrandMonitor are grateful for your continued support and interest in staying informed. We believe that knowledge is power, and staying updated is essential for making better decisions in your personal and professional lives. Have a fantastic week, and we'll see you in our next Weekly Digest!
Stay vigilant, stay informed.
Yours sincerely, the BrandMonitor Team